Sites and places
Peiper's HQ (Gatekeepers Lodge)
Before Peiper commissioned this building was the gatehouse to Chateau de Froidcour (which was used by the germans to house POW's taken during the Battle of the Bulge). It lies halfway between La Gleize an Stoumont.
At present a Belgian family lives here, apparently unawares that a later convicted SS officer was the former owner of their house.
When I took the picture it was quite a warm day and as the grounds are privately owned (there is even a sign near the gate warning so) the present occupants were relaxing in the rear garden, so I got quite some funny looks walking around the place with a camera and an ASL map :-)
The orchard lane depicted on the ASL map leading to Chateau de Froidcour is still there and is a beautiful sight on a summer day.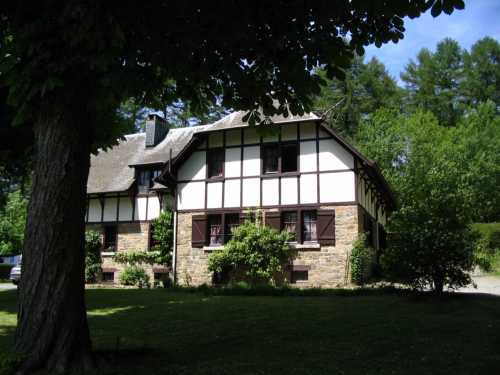 Peiper's HQ (Gatekeep's Lodge) as seen from the direction of the N33.
ASL Data
Module:
Kampfgruppe Peiper I
Map:
'St'
Hex:
K40
Type:
Stone Building
Height:
Ground floor
Victory points:
1
Scenario:
- KGP-CG4 Prayers in the dark
- KGP-CG1 Clash at Stoumont
Geography
Name:
Peiper's HQ
Place:
N33 Stoumont-La Gleize, Belgium