News archive May 2005
May 31 2005 - ASLSK finalist at International Gamers Awards
News admitted by : Skye
Multiman Publishing must allready be popping the champagne as the ASL Starter Kit has become one of the finalists in the "International Gamers Awards" in the "Historical Simulations" category!
Quite an honour but well deserved I think. Actually winning might be tough as there are at least three other very good games in there, but it's good to see that the ASL(SK) hobby is getting some mainstream attention nowadays.
And for something entirely different; check out the updated ASLRB news in the original article lower on this webpage. If you want one of those new ASLRB rulebooks you'd better pre-order it at the MMP website soon as it it very very close to release now, and save some dollars!
May 20 2005 - Arnhem tournament reveals scenario list
News admitted by : Skye
Peter Struijf who organises the sublime Arnhem ASL tournament in the city of Arnhem (Netherlands) has made available on his website the list of scenarios will be played, and a picture of the main prize. Also some clarity about the style of the tournament (one big tourny and 3 small for the late arrivers or those who get kicked out of the big tourny).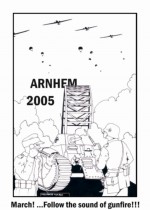 I have attended the Arnhem tournament last year and am very impressed with the quality of the organisation, the accomodations and the high level of play by the attendees. So if you're planning on going this year then say hi and don't hesitate to buy me a beer :-)
**Updated** May 19 2005 - ASLSK2 and rulebook being printed
News admitted by : Skye
Good news again on ConsimWorld forum, it seems the the reprint of ASLRB v2 (2nd edition ASL rulebook) and the ASLSK2 (ASL Starter Kit 2) are nearing completion. The following was posted :
-> UPDATE 30-05-2005
ASLRB2 status (Keith Dalton - MMP):
ASLRB started printing last Tuesday. The printer said two weeks to print and one week to ship to us (max).
-> UPDATE 19-05-2005
ASLRB2 status :
Just a quick update guys, we've given the printer the go-ahead to
begin printing the ASLRB. The page proofing is complete, and we have
just two small changes on the dividers that are on their way back to
the printer right now.

The pages are going first, then the dividers as soon as the last two
corrections are made.


ASLSK 2 Status:
-Maps at printers
-box top and back at printers
-countersheet blulines proofed and to go to printers
-scenario and QRDCs in layout (playtesting is complete)
-rules and examples completed and on the way to the layout department prior to being sent to printers for blueline proofs. (One minor edit to rules determined from last nights final playtest)
May 19 2005 - Schwerpunkt #10 out
News admitted by : Skye
12 new small and medium sized scenario's for ASL and a 24 page booklet with designers notes and articles. That's what you get from the Tampa Bay ASL guys for just 20$, so go see if you like the new product on the Schwerpunkt webpage.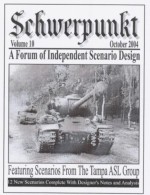 **Updated** May 10 2005 - MMP needs you!
News admitted by : Skye
You want the latest core module "Armies of Oblivion" for the ASL (Advanced Squad Leader) ? Always complaining about its publisher MMP? Then now is your chance to show you've got !
Brian Youse from MMP needs images of a few pieces of funky hardware to get the final product done, he posted a message about it on the forum at warfareHQ so see if you can find what he needs and send him a mail if you do.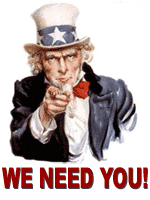 The original post:
The title says it all. Here is a list of the vehicles we're hung up on finding overhead line art. We need hi-res images approximately 2"x3" and 300DPI.

Now's your chance to help get AOO out the door and on your table.
If you have the required image, please drop me a line at byouse@cablespeed.com

Veh: Slovakian* T vz 33(t)
Veh: Slovakian T vz 34
Veh: Slovakian Lt vz 40(t)
Veh: Hungarian 40M Csaba
Veh: Generic tractor/prime mover "light tractor"
Veh: Generic tractor/prime mover "medium tractor"
Veh: Generic tractor/prime mover "heavy tractor"
Gun: Romanian M36/39 (75L AA)
Gun: Bulgaria's "Skoda*Inf" (37* INF*& 70* INF)
Gun:*Generic/Common "Skoda M28 (80)" (80* ART)
-> UPDATE 19-05-2005: Brian Youse (MMP) posted the following as reply to the search efforts of ASL fans on Consimworld:
Thanks to the gentlemen who helped us out in looking for AoO artwork. Much of what we needed was found. We'll hopefully have a status for this vis-a-vis countersheet layout next week sometime.
May 2 2005 - MMP releases "Operations 47" for sale
News admitted by : Skye
If you're interested in MMP's gaming magazine "Operations" then it's now possible to order it without subscription on the MMP website.
The magazine contains articles about their their enitire range of supported games and of particulair interest : the 8th scenario for ASL starter kit (ASLSK). I have ordered a copy myself and when it arrives I'll report about the two ASLSK scenarios released in "Operations" #46 and #47.